"Cruise-Ins at BJay's Pizza and Coneys!"
When: May 10th and 24th, June 14th and 28th, July 12th and 26th, August 9th and 23rd, September 6th and 20th, and October 4th (Halloween Cruise-In)
You never know what we may do at some of the Cruise-Ins!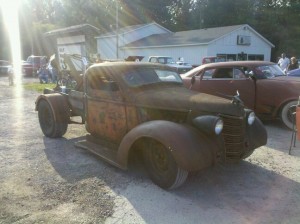 Where: 363 State Park Drive, Bay City, MI @ BJay's Pizza
Time: 5:00PM – ?
50/50's at ALL Cruise-Ins to Benefit Camp Fish Tales plus 2 Cruiser Plaques.
September 20th is Trophy and Grab Bag Nite.
Trophies will be given for the "Best Bike," "Marilyn Shipman Memorial Award for the Best Truck" and "Dan Albrecht Memorial Award for the Best Car"
Come on out, meet some really nice people, and have some great food! You will have a great time and see some awesome rides!
Hosted by: BJay's Pizza (989-848-2499) and Highway Classic Cruisers Car Club. (Contact Gail (989-798-0204)
View some cars from our prior events below!